Buy Vietnam VPN get Vietnam ip address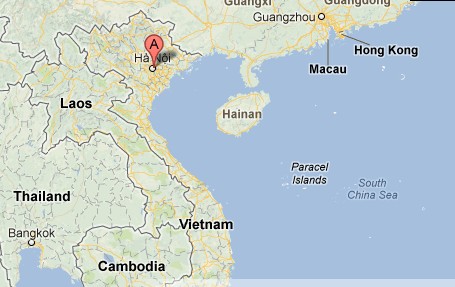 Vietnam (i/ˌviːətˈnɑːm/, /viˌɛt-/, /-ˈnæm/, /ˌvjɛt-/;[7] Vietnamese pronunciation: [viət˨ naːm˧] ( listen)) officially the Socialist Republic of Vietnam (Cộng hòa Xã hội chủ nghĩa Việt Nam ( listen)), is the easternmost country on the Indochina Peninsula in Southeast Asia. With an estimated 90.3 million inhabitants as of 2012, it is the world's 13th-most-populous country, and the eighth-most-populous Asian country. The name Vietnam translates as "South Viet", and was officially adopted in 1945. The country is bordered by China to the north, Laos to the northwest, Cambodia to the southwest, and the South China Sea to the east.[8] Its capital city has been Hanoi since the reunification of North and South Vietnam in 1976.
Internet Service Providers in Vietnam vpn are now storing personal user's data. With vpntraffic.com everyone can protect intimacy while surfing the Internet. VPN account allows you to connect on our server located around the world which provides you dedicated IP address. All traffic is encrypted so you are 100% safe and secure to surf anonymous. Get your Internet freedom with Vietnamese VPN account and enjoy in your privacy.
What you need is a VPN account !
Before you make an order, you can Trial our VPN Service for 3 days.

• Only $1.99

• High Speed
• All country server



---
$5 Package = 1 Account = VPN servers of US, AU, UK, CA, RU, Italy, Japan, Korea, HK, etc.

You can switch between our servers at any time (35+ countries vpn server)
One Year/365 days

• Only $35

• High Speed
• All country server



Multi-VPN server package include:

US

UK

CA

AU

Spain

France

Italy

Russia

Netherlands

Germany

Belgium

Switzerland

Denmark

Portugal

Finland

Ireland

Poland

Romania

Czech Republic

Greece

Ukraine

Hungary

Luxembourg

Austria

Sweden

Hong Kong

Vietnam

Philippines

Thailand

Indonesia

Malaysia

China

Taiwan

Singapore

India

Japan

Korea

Mexico

United Arab Emirates

Turkey

Colombia

Kuwait

Cyprus

Brazil

Argentina

Chile

Venezuela

Egypt

Israel

Saudi Arabia

South Africa