Buy indonesia VPN get indonesia ip address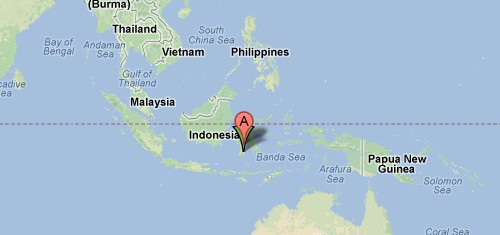 Indonesia (i/ˌɪndəˈniːʒə/ in-də-nee-zhə or /ˌɪndoʊˈniːziə/ in-doh-nee-zee-ə), officially the Republic of Indonesia (Indonesian: Republik Indonesia Indonesian pronunciation: [rɛpʊblik ɪndonesia]), is a country in Southeast Asia and Oceania. Indonesia is an archipelago comprising approximately 17,508 islands.[6] It has 34 provinces with over 238 million people, and is the world's fourth most populous country. Indonesia is a republic, with an elected legislature and president. The nation's capital city is Jakarta. The country shares land borders with Papua New Guinea, East Timor, and Malaysia. Other neighboring countries include Singapore, Philippines, Australia, Palau, and the Indian territory of the Andaman and Nicobar Islands. Indonesia is a founding member of ASEAN and a member of the G-20 major economies. The Indonesian economy is the world's sixteenth largest by nominal GDP and fifteenth largest by purchasing power parity.
We offer VPN services to people of Indonesia vpn which provide you shared or dedicated IP address and anonymous web surfing. Using our VPN servers around the world you can watch any TV online, listen radio, view sites that are available only for Indonesian IPs, unblock Skype, access poker/gambling/adult sites anonymously from anywhere. Your privacy and all traffic is encrypted with maximum 2048 bits so you are 100% secured and safe.
What you need is a VPN account !
Before you make an order, you can Trial our VPN Service for 3 days.

• Only $1.99

• High Speed
• All country server



---
$5 Package = 1 Account = VPN servers of US, AU, UK, CA, RU, Italy, Japan, Korea, HK, etc.

You can switch between our servers at any time (35+ countries vpn server)
One Year/365 days

• Only $35

• High Speed
• All country server



Multi-VPN server package include:

US

UK

CA

AU

Spain

France

Italy

Russia

Netherlands

Germany

Belgium

Denmark

Ireland

Poland

Romania

Czech Republic

Greece

Ukraine

Japan

Korea

Hong Kong

Vietnam

Philippines

Thailand

Indonesia

Malaysia

China

Singapore

India

Mexico

United Arab Emirates

Turkey

Colombia

Kuwait

Cyprus

Brazil

Argentina

Chile

Egypt

Israel

Saudi Arabia

South Africa

Kenya