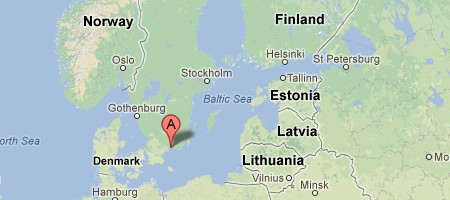 Sweden (i/ˈswiːdən/ swee-dən; Swedish: Sverige [ˈsværjɛ] ( listen)), officially the Kingdom of Sweden (Swedish: Konungariket Sverige (help·info)), is a Scandinavian country in Northern Europe. Sweden borders Norway and Finland, and is connected to Denmark by a bridge-tunnel across the Øresund.
Internet Service Providers in Sweden are now storing personal user's data. With vpntraffic everyone can protect intimacy while surfing the Internet. A Swedish VPN account allow you to connect on our servers which provide you shared or dedicated IP address and on that way you are hiding your real IP. All traffic is encrypted so you are 100% safe and secure to surf anonymous. We offer also free VPN solution for Swedish citizens. Check our Free VPN page for more information's.
the package not include Sweden vpn ,if you need Sweden ip ,please contact us
VpnTraffic - Allt i en knackning vpn , lås upp ditt Internet, Kringgå platsbaserade blockeringar! Välj en serverplats föratt ansluta till, VPN-Servrar i mer än 35 länder runt om i världen.Stöd för PPTP och L2TP/IPsec.
Om du behöver Avblockera alla webbplatser inklusive Facebook, Twitter och mer?
Om du behöver ändra din IP-adress?
Om du behöver Titta på BBC iPlayer från någonstans i världen?
Om du behöver titta på Netflix Utanför USA?
VpnTraffic för funktioner:
- 1 knackning på anslut till vår VPN-server, gratis installation!
- Spara användarnamn / lösenord, välj bara en serverplats, att ansluta till
- Inga bandbreddsbegränsningar
- Krypterar din Internet-trafik
- Avblockera statliga och företags begränsningar Kringgå platsbaserade
blockeringar.
- Obegränsad växling mellan VPN-servern platser (i mer än 35 länder
runt om i världen)
- Stöd för PPTP och L2TP/IPsec
- Fungerar med wifi, 3G, GSM och alla mobila dataenheter
VPN-servrar runt om i världen:
- Europa: Storbritannien, Frankrike, Tyskland, Sverige, Ryssland,Spanien, Schweiz, Italien, Nederländerna, Norge, Danmark, Belgien,Tjeckien, Polen, Rumänien
- Amerika: USA, Kanada, Mexiko, Colombia, Argentina, Brasilien
- Asien: Kina, Indien, Japan, Förenade Arabemiraten, Malaysia,Singapore, Sydkorea, Turkiet, Indonesien, Thailand, Filippinerna,Hongkong, Vietnam, Israel, Saudiarabien, Kuwait
- Övriga: Australien
Inte bara för Android app, VpnTraffic stödjer även andra OS, Säkra din PC eller Mac.
Vpn-trafik - frigör ditt Internet,Få tillgång till Skype,VoIP,TV-kanaler och strömmande video så som: Hulu,Netflix,BBC iPlayer. Gårunt platsbaserade blockeringar! VPN-servrar i mer än 40 länder runtom i världen. Stödjer PPTP och L2TP/IPsec.
What you need is a VPN account !
Before you make an order, you can Trial our VPN Service for 3 days.

• Only $1.99

• High Speed
• All country server



---
$5 Package = 1 Account = VPN servers of US, AU, UK, CA, RU, Italy, Japan, Korea, HK, etc.

You can switch between our servers at any time (35+ countries vpn server)
One Year/365 days

• Only $35

• High Speed
• All country server



Multi-VPN server package include:

US

UK

Canada

Australia

Spain

France

Italy

Russia

Netherlands

Germany

Belgium

Denmark

Portugal

Finland

Ireland

Poland

Romania

Czech Republic

Greece

Ukraine

Hungary

Luxembourg

Austria

Sweden

Norway

Cyprus

Switzerland

Turkey

Philippines

Thailand

Indonesia

Malaysia

Brunei

China

Taiwan

Singapore

India

Japan

Korea

Vietnam

United Arab Emirates

HongKong

Bangladesh

Pakistan

Kuwait

Egypt

Israel

Saudi Arabia

Jordan

South Africa

Kenya

Colombia

Brazil

Argentina

Chile

Venezuela

Mexico

Peru

Panama

Ecuador

Uruguay