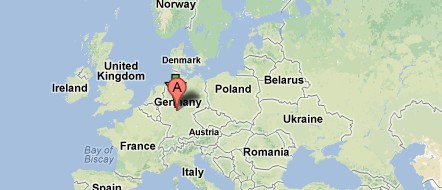 Germany (i/ˈdʒɜrməni/; German: Deutschland), officially the Federal Republic of Germany (German: Bundesrepublik Deutschland, pronounced [ˈbʊndəsʁepuˌbliːk ˈdɔʏtʃlant] ( listen)),[9] is a federal parliamentary republic in western-central Europe. The country consists of 16 states, and its capital and largest city is Berlin. Germany covers an area of 357,021 square kilometres (137,847 sq mi) and has a largely temperate seasonal climate. With 81.8 million inhabitants, it is the most populous member state in the European Union. Germany is one of the major political and economic powers of the European continent and a historic leader in many theoretical and technical fields.
A Deutschland VPN account allow you to connect on our server located in the Germany which provide you dedicated Deutsche IP address. On that way our customer is able to visit complete anonymously any Internet resources in Germany or anywhere else quickly without restriction. All traffic is encrypted so you are 100% safe and secure to surf anonymous. You also have option to get VPN from Germany for free and for more details check Free VPN page.
german vpn not include in the package ,if you need german ip please contact us
VpnTraffic - All in one vpn , Verschlüsseln sie ihre Internet-IP! Wählen Sie einen Server-Standort aus, VPN Server aus 35 + Länder weltweit. Unterstützt PPTP und L2TP/IPsec Verbindungen.
Wenn Sie die Entsperrung aller Websites wie Facebook, Twitter und mehr brauchen?
Wenn Sie Ihre IP-Adresse ändern wollen?
Wenn Sie BBC iPlayer von überall auf der Welt sehen möchten?
Wenn Sie Netflix Außerhalb der USA beobachten wollen?
VpnTraffic für Features:
- 1 Anwendung um auf unsere VPN-Server zu verbinden, gratis Installation!
- Speichern Sie Username / Passwort, sie brauchen nur einen Server auswählen um zu verbinden
- Keine Bandbreitenbeschränkungen
- Verschlüsselt Ihren Internet-Verkehr
- Entsperren sie Staatsverschlüsselungen.
- Wechseln sie unbegrenzt zwischen den VPN Server (35 + Länder auf der ganzen Welt)
- Unterstützt PPTP und L2TP
- Arbeitet mit Wi-Fi, 3G, GSM, und alle mobilen Datenträgern
VPN-Server auf der Welt:
- Europa: UK, Frankreich, Deutschland, Schweden, Russland, Spanien, Schweiz, Italien, Niederlande, Norwegen, Dänemark, Belgien, Tschechien, Polen, Rumänien
- Amerika: USA, Kanada, Mexiko, Kolumbien, Argentinien, Brasilien
- Asien: China, Indien, Japan, Vereinigte Arabische Emirate, Malaysia, Singapur, Korea, Türkei, Indonesien, Thailand, Philippinen, Hong Kong, Vietnam, Israel, Saudi-Arabien, Kuwait
- Sonstige: Australien
Nicht nur für Android App, VpnTraffic unterstützt auch anderer Betriebsysteme. Sichern Sie VpnTraffic für ihren PC oder MAC.
Wenn Sie Ihre IP-Adresse ändern wollen. VpnTraffic - Unblock Ihre Internet-, Access Skype, VOIP, TV und Streaming-Videos wie Hulu, Netflix, BBC iPlayer. Blöcken! 40 + Länder VPN-Server worldwide. Voll Support PPTP und L2TP/IPsec.
What you need is a VPN account !
Before you make an order, you can Trial our VPN Service for 3 days.

• Only $1.99

• High Speed
• All country server



---
$5 Package = 1 Account = VPN servers of US, AU, UK, CA, RU, Italy, Japan, Korea, HK, etc.

You can switch between our servers at any time (35+ countries vpn server)
One Year/365 days

• Only $35

• High Speed
• All country server



Multi-VPN server package include:

US

UK

Canada

Australia

Spain

France

Italy

Russia

Netherlands

Germany

Belgium

Denmark

Portugal

Finland

Ireland

Poland

Romania

Czech Republic

Greece

Ukraine

Hungary

Luxembourg

Austria

Sweden

Norway

Cyprus

Switzerland

Turkey

Philippines

Thailand

Indonesia

Malaysia

Brunei

China

Taiwan

Singapore

India

Japan

Korea

Vietnam

United Arab Emirates

HongKong

Bangladesh

Pakistan

Kuwait

Egypt

Israel

Saudi Arabia

Jordan

South Africa

Kenya

Colombia

Brazil

Argentina

Chile

Venezuela

Mexico

Peru

Panama

Ecuador

Bolivia