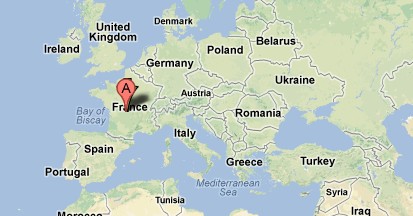 France (English i/ˈfræns/ franss or /ˈfrɑːns/ frahnss; French: [fʁɑ̃s] ( listen)), officially the French Republic (French: République française French pronunciation: ​[ʁepyblik fʁɑ̃sɛz]), is a unitary semi-presidential republic located mostly in Western Europe, with several overseas regions and territories. Metropolitan France extends from the Mediterranean Sea to the English Channel and the North Sea, and from the Rhine to the Atlantic Ocean. From its shape, it is often referred to in French as l'Hexagone ("The Hexagon").
France VPN account allow you to connect on our servers around the world like a citizen of France. VPN service hide your real French IP address and there is no logs of your connection to our servers. All traffic is encrypted using PPTP , L2TP IPSec or SSL encryption so you are 100% safe and secure to surf anonymous and visit everything on Internet.
if you need france vpn please contact us
VpnTraffic - Contournez les restrictions d'internet et la censure. Choisir la localisation d'un serveur pour s'y connecter, Localisation virtuelle dans plus de 35 pays dans le monde.Support et L2TP/IPSec.
* Avez-vous besoin d'acceder à sites Web tels que Facebook, Twitter, et plus ?
* Etes vous dans le besoin de changer votre adresse IP ?
* Regarder Netflix En dehors des Etats-Unis ?
VpnTraffic vous propose les fonctionnalités suivantes pour votre Android:
- 1 application pour se connecter à nos serveurs VPN, configuration gratuite!
- Enregistrement du nom d'utilisateur / mots de passe,
- Pas de limitations de bande passante
- Connexion internet chiffrée
- Contournez les restrictions d'internet et la censure gouvernementale.
- Switcher entre differents emplacements de serveur VPN (+35 serveurs autour du monde)
- Support PPTP et L2TP/IPSec
- Support de données wifi, 3G, GSM, et tout autre support de données mobiles
Serveurs VPN autour du monde:
- Europe: Royaume-Uni, France, Allemagne, Suède, Russie, Espagne, Suisse, Italie, Pays-Bas, Norvège, Danemark, Belgique, République tchèque, la Pologne, la Roumanie
- Amérique: Etats-Unis, Canada, Mexique, Colombie, Argentine, Brésil
- Asie: Chine, Inde, Japon, Emirats Arabes Unis, la Malaisie, Singapour, la Corée, la Turquie, l'Indonésie, la Thaïlande, les Philippines, Hong Kong, au Vietnam, Israël, l'Arabie saoudite, le Koweït
- Autre: l'Australie
Non seulement pour les appareils Android , VpnTraffic supporte différent Os, Sécurisez votre PC ou Mac.
What you need is a VPN account !
Before you make an order, you can Trial our VPN Service for 3 days.

• Only $1.99

• High Speed
• All country server



---
$5 Package = 1 Account = VPN servers of US, AU, UK, CA, RU, Italy, Japan, Korea, HK, etc.

You can switch between our servers at any time (35+ countries vpn server)
One Year/365 days

• Only $35

• High Speed
• All country server



Multi-VPN server package include:

US

UK

Canada

Australia

Spain

France

Italy

Russia

Netherlands

Germany

Belgium

Denmark

Portugal

Finland

Ireland

Poland

Romania

Czech Republic

Greece

Ukraine

Hungary

Luxembourg

Austria

Sweden

Norway

Cyprus

Switzerland

Turkey

Philippines

Thailand

Indonesia

Malaysia

Brunei

China

Taiwan

Singapore

India

Japan

Korea

Vietnam

United Arab Emirates

HongKong

Bangladesh

Pakistan

Kuwait

Egypt

Israel

Saudi Arabia

Jordan

South Africa

Kenya

Colombia

Brazil

Argentina

Chile

Venezuela

Mexico

Peru

Panama

Ecuador

Bolivia