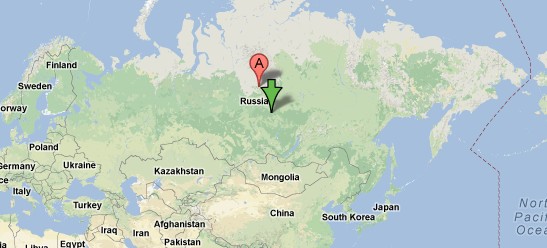 Russia i/ˈrʌʃə/ or /ˈrʊʃə/ (Russian: Россия, tr. Rossiya; IPA: [rɐˈsʲijə] ( listen)), also officially known as the Russian Federation (Russian: Российская Федерация, tr. Rossiyskaya Federatsiya; IPA: [rɐˈsʲijskəjə fʲɪdʲɪˈratsɨjə] ( listen)), is a country in northern Eurasia. It is a federal semi-presidential republic, comprising 83 federal subjects. From northwest to southeast, Russia shares land borders with Norway, Finland, Estonia, Latvia, Lithuania and Poland (both with Kaliningrad Oblast), Belarus, Ukraine, Georgia, Azerbaijan, Kazakhstan, China, Mongolia, and North Korea. It shares maritime borders with Japan by the Sea of Okhotsk, and the U.S. state of Alaska across the Bering Strait. At 17,075,400 square kilometres (6,592,800 sq mi), Russia is the largest country in the world, covering more than one-eighth of the Earth's inhabited land area. Russia is also the world's ninth most populous nation with 143 million people as of 2012. Extending across the whole of northern Asia, Russia spans nine time zones and incorporates a wide range of environments and landforms. Russia has the world's largest reserves of mineral and energy resources and is the largest producer of oil and natural gas globally. Russia has the world's largest forest reserves. Its lakes contain approximately one-quarter of the world's liquid fresh water, 20% in Lake Baikal alone.
Buy

Russia Российская Федерация VPN only $5, Russia vpn include in package

VpnTraffic service offers you anonymous web surfing with IP address based on countries where our servers are. Using our Russian VPN services you can watch any TV online, listen radio, view sites that are available only for Russian IPs, unblock Skype, access poker/gambling/adult sites anonymously from anywhere. Everyone has a right on complete freedom, privacy and anonymity.
В данный момент наша виртуальная частная сеть состоит из 84 серверов, расположенных в 63 городах 55 стран мира. И это далеко не конец.
VpnTraffic - VPN для Android, 63 + серверов из разных Странмира.Быстрый и стабильный трафик!
VpnTraffic - Разблокирует Ваше интернет соединение в обход , на основе определения местоположения блоков! Выберите местоположение сервера для подключения к более 63 стран с VPN серверами по всему миру. Поддержка PPTP и L2TP/IPSec.
VPN необходим:
Если вам нужно разблокировать все веб-сайты в том числе Facebook, Twitter, и другие.

Если вам нужно изменить свой ​​IP-адрес.

Если вам нужно смотреть BBC iPlayer из любой точки мира.

Если вам нужно смотреть Netflix за пределами США.

VpnTraffic особенности:

- Быстрое подключения к нашему серверу VPN.
- Бесплатная установка!

- Сохранение имени пользователя / пароля, нужно всего лишь выбрать местоположение сервера для подключения.

- Нет ограничений пропускной способности.

- Шифрует интернеттрафик.

- Разблокировка государственных и корпоративных ограничений, на основе определения местоположенияблоков.

- Не ограниченное переключение между VPN серверами (более 35 стран мира).

- Поддержка PPTP и L2TP/IPSec

- Работает с Wi-Fi, 3G, GSM, и всемимобильными носители
What you need is a VPN account !
Before you make an order, you can Trial our VPN Service for 3 days.

• Only $1.99

• High Speed
• All country server



---
$5 Package = 1 Account = VPN servers of US, AU, UK, CA, RU, Italy, Japan, Korea, HK, etc.

You can switch between our servers at any time (35+ countries vpn server)
One Year/365 days

• Only $35

• High Speed
• All country server



Multi-VPN server package include:

US

UK

Canada

Australia

Spain

France

Italy

Russia

Netherlands

Germany

Belgium

Denmark

Portugal

Finland

Ireland

Poland

Romania

Czech Republic

Greece

Ukraine

Hungary

Luxembourg

Austria

Sweden

Norway

Cyprus

Switzerland

Turkey

Philippines

Thailand

Indonesia

Malaysia

Brunei

China

Taiwan

Singapore

India

Japan

Korea

Vietnam

United Arab Emirates

HongKong

Bangladesh

Pakistan

Kuwait

Egypt

Israel

Saudi Arabia

Jordan

South Africa

Kenya

Colombia

Brazil

Argentina

Chile

Venezuela

Mexico

Peru

Panama

Ecuador

Uruguay