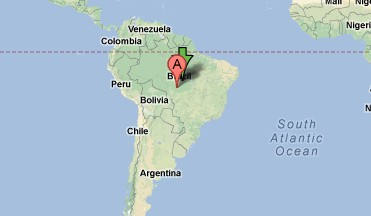 Brazil i/brəˈzɪl/ (Portuguese: Brasil, IPA: [bɾaˈziw] ), officially the Federative Republic of Brazil (Portuguese: República Federativa do Brasil, listen (help·info)), is the largest country in both South America and the Latin America region. It is the world's fifth largest country, both by geographical area and by population, with over 193 million people.[4][11] It is the largest Lusophone country in the world, and the only one in the Americas.
Vpntraffic is a leading Brazil/Brazilian BR VPN services provider that enables our users from all around the world to enjoy Free Internet thought fast, secure and reliable servers. Vpntraffic provides a secure Virtual Private Network solution through High Speed Access for Brazil/Brazilian BR citizens, using servers located all around the world. You get a secured connection for all programs you are using, you are completely anonymous, your traffic is fully encrypted and you are totally protected. High-quality 1Gbit Network connectivity ensures that your VPN service will be fast wherever you are in the world.
We all understand the importance of a virtual private network. There are times when one wishes to remain completely anonymous and protected online. The peace and security that a vpn account can provide you with is priceless. An offshore vpn account is also helpful for those that wish to appear to be located in another country.
1- Você precisa de um VPN (Virtual Private Network), como o vpntraffic, que apartir de $1.99 provê:
Conexão usando os protocolos PPTP e L2TP;
Tráfego de dados sem restriçãol
Conexão de alta velocidade;
Encriptação de 128 bits (uma conexão encriptada não pode ser vista por um hacker ou pelo seu ISP (Internet Service Provider, no caso, a sua operadora de ADSL), como a sua conexão com o banco, por exemplo);
Anula o firewall do seu ISP;
Sem logs ou rotas dos seus acessos à internet;
Seu IP fica oculto, anônimo;
Funciona com Windows, Linux, Mac OS;
Funciona em plataformas móveis, como Android/Windows/iPhone/Blackberry/Symbian
É fácil de instalar e usar;
Ativação da conta de VPN instantânea;
Com a VpnTraffic você remove limitações impostas por regiões, obtém conteúdos restritos, como canais de vídeos ou ate mesmo jogos. Temos mais de 40 servidores VPN espalhados pelo mundo com suporte pptp el2tp/ipsec
What you need is a VPN account !
Before you make an order, you can Trial our VPN Service for 3 days.

• Only $1.99

• High Speed
• All country server



---
$5 Package = 1 Account = VPN servers of US, AU, UK, CA, RU, Italy, Japan, Korea, HK, etc.

You can switch between our servers at any time (35+ countries vpn server)
One Year/365 days

• Only $35

• High Speed
• All country server



Multi-VPN server package include:

US

UK

Canada

Australia

Spain

France

Italy

Russia

Netherlands

Germany

Belgium

Denmark

Portugal

Finland

Ireland

Poland

Romania

Czech Republic

Greece

Ukraine

Hungary

Luxembourg

Austria

Sweden

Norway

Cyprus

Switzerland

Turkey

Philippines

Thailand

Indonesia

Malaysia

Brunei

China

Taiwan

Singapore

India

Japan

Korea

Vietnam

United Arab Emirates

HongKong

Bangladesh

Pakistan

Kuwait

Egypt

Israel

Saudi Arabia

Jordan

South Africa

Kenya

Colombia

Brazil

Argentina

Chile

Venezuela

Mexico

Peru

Panama

Ecuador

Uruguay