Watch CBS TV Shows Online in UK? CBS broadcasts popular shows such as "CSI," "Two and a Half Men" and "How I Met Your Mother." If you want, You can use vpn to Watch CBS outside the US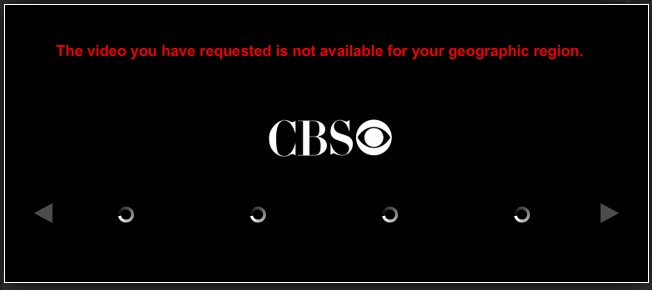 CBS Broadcasting Inc. (CBS) is a major US commercial broadcasting television network, which started as a radio network. The name is derived from the initials of the network's former name, Columbia Broadcasting System. It is the second largest broadcaster in the world behind the BBC. The network is sometimes referred to as the "Eye Network" in reference to the shape of the company's logo. It has also been called the "Tiffany Network," which alludes to the perceived high quality of CBS programming during the tenure of its founder William S. Paley (1901–90). It can also refer to some of CBS's first demonstrations of color television, which were held in a former Tiffany & Co. building in New York City in 1950, thus earning it the name "Color broadcasting system" back when such a feat was innovative.
How to watch CBS from abroad?
For expatriates or simply foreigners, one of the best way is to choose a VPN (
Virtual Private Network
). This kind of software will allow you to switch your IP into a new one (depending of the server location that you choose). It will enable to bypass any geo-restriction system, thus you will be able to enjoy the CBS content.
Watch CBS outside the US,You need
USA VPN
, vpntraffic provide usa ip address and more more than 40 countries vpn,all in one account only $5/Month. Start try only $1.99
What you need is a VPN account !
Before you make an order, you can Trial our VPN Service for 3 days.

• Only $1.99

• High Speed
• All country server



---
$5 Package = 1 Account = VPN servers of US, AU, UK, CA, RU, Italy, Japan, Korea, HK, etc.

You can switch between our servers at any time (35+ countries vpn server)
One Year/365 days

• Only $35

• High Speed
• All country server



Multi-VPN server package include:

US

UK

CA

AU

Spain

France

Italy

Russia

Netherlands

Germany

Belgium

Denmark

Ireland

Poland

Romania

Czech Republic

Greece

Ukraine

Japan

Korea

Hong Kong

Vietnam

Philippines

Thailand

Indonesia

Malaysia

China

Singapore

India

Mexico

United Arab Emirates

Turkey

Colombia

Kuwait

Cyprus

Brazil

Argentina

Chile

Egypt

Israel

Saudi Arabia

South Africa

Kenya